Our New Vessel – Afterglow I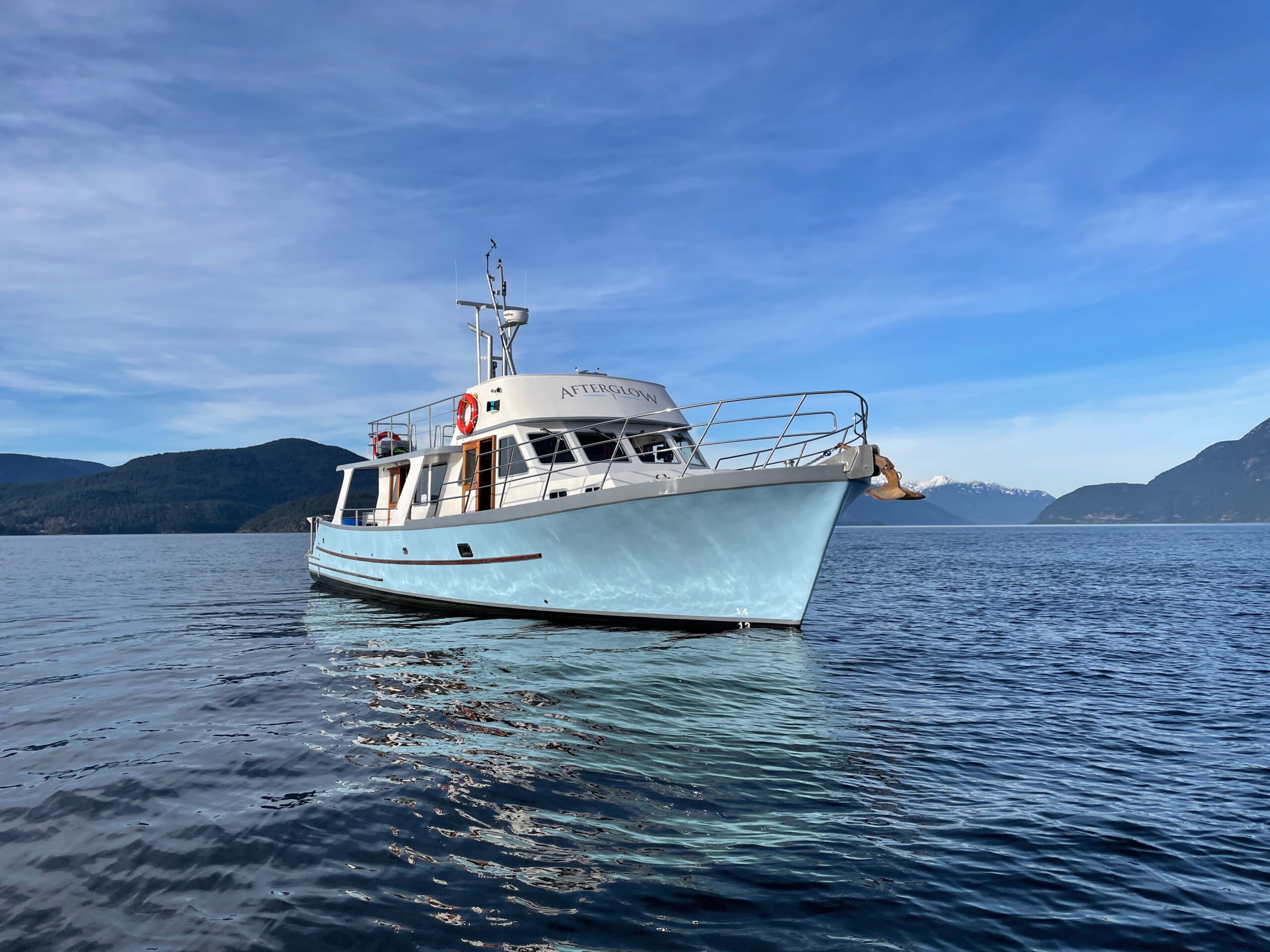 History
Afterglow I was built in 1972 at Yamanaka Boat Works in Steveston, BC. Yamanaka Boat Works specialized in building fishing boats for the BC Coast and were known for their sturdy construction and nice lines. Afterglow is a heavily built fiberglass vessel, and her superstructure is constructed from solid yellow cedar beams (back in the day when there was plenty). Afterglow was built for the passenger industry and as such was designed to give lots of space to move about.
Afterglow I, had been out of service since 2017, so we are excited about her revitalization and about customizing her to meet our needs.
Stay tuned for more photos of Afterglow I as we put the finishing touches on her refit!
A Magnificent Charter Boat
At 60 feet, Afterglow I has lots of space both inside and out. The main deck has a very spacious salon, galley and wheelhouse with windows all around for fantastic viewing. Below deck forward there are 2 heads and 3.5 cabins with room to sleep 7 guests. Below deck aft, there is a 3rd head and 2 double cabins: 1 for crew and 1 for guests.
Everything is new, from the electronics, to the anchor winch, to the heads, sinks, stove, fridge, freezer, lights, etc. The interior is finished with contrasting colours of off-white and deep rich red mahogany which gives her a warm, bright comfortable feel.
Our refit has been guided by a very lengthy and strict set of regulations from Transport Canada for passenger vessels. Afterglow I now has the latest and greatest in safety features. Our fire safety upgrades are unsurpassed in the small ship industry
Outside there are covered walkways the length of the boat on both sides and space on the fore deck for sitting, viewing etc. The spacious aft deck is a great place to get ready for shore excursions and the swim grid will be a very easy launching platform. The upper deck, accessed by a ladder, has 360 views and will be a wonderful place to hang out on nice days and provides a great vantage point to spot wildlife!
The boat is equipped with a diesel furnace and radiant hot water heating throughout making her always warm and dry. A warm, airy stowage area has been created where wet gear can be dried.
In addition to her comfort and seaworthiness, Afterglow has all the extras expected of a top-notch BC Coast charter boat: a 19-foot hard-bottom inflatable with 50 HP 4-stroke engine, spare 15 hp 4-stroke engine, nine kayaks, 120-volt power, and an extensive library. She is equipped with up-to-date safety and navigation equipment including GPS, radar, electronic charts, AIS, autopilot, satellite phone, VHF radios and depth sounders. Afterglow I exceeds all safety requirements of the Canadian Coast Guard and Transport Canada and she will be carefully maintained and continually updated.
On the Afterglow I you will experience all the comforts of home as you explore the wilderness of the BC Coast.